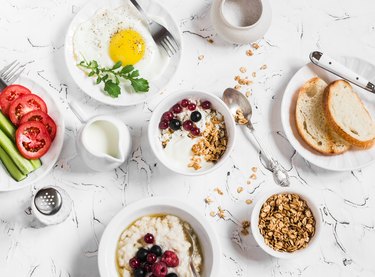 You don't need to fill your fridge from top to bottom to prepare an entire week's worth of nutritious breakfast recipes. Actually, all you need is eight healthy ingredients to start your morning right every day of the week.
8 Healthy Breakfast Ingredients You'll Need
Given their versatility in both sweet and savory recipes, rolled oats are a must-have breakfast ingredient.
Largeman-Roth likes oats for their beta-glucan, a type of soluble fiber that helps control your blood sugar levels, slow digestion and increase satiety, according to the Harvard T.H. Chan School of Public Health.
Grapes are a great fresh fruit to keep on hand for quick, simple weekday breakfasts, Largeman-Roth says. They're a healthy swap for typical jelly in PB&Js as they're free of added sugar. You can also toss a few into your yogurt parfait.
Grapes contain resveratrol, which is a type of antioxidant that's linked to lower inflammation levels in the body, according to the Mayo Clinic. Nevertheless, more research is needed to confirm these benefits.
Not only is Greek yogurt creamy and delicious but it also packs quite a bit of protein. One 200-calorie serving will supply about 18.6 grams of protein, which is about 37 percent of the daily recommended value, according to the USDA.
Adding protein to your breakfast is a great way to ward off mid-morning snacking. Protein requires a lot of energy to digest and helps keep you satiated, according to Harvard Health Publishing.
Toast is a much-loved breakfast food, but whole-grain varieties will give you the most bang for your bread buck. "Whatever brand you buy, make sure that whole grains top the ingredient list," Largeman-Roth suggests.
Whole grains are higher in fiber and nutrients than refined grains, which means they'll keep your blood sugar levels steady, helping boost satiety.
"I keep a big bag of pumpkin seeds on hand all year round," Largeman-Roth says. "I love their flavor and crunch and use them in a ton of recipes."
Plus, pumpkin seeds are loaded with magnesium, providing about 37 percent of your daily recommended value per ounce serving, per the National Institutes of Health (NIH). Magnesium helps keep your muscle and nerve function regular and helps your body process the protein you eat.
This nut butter is versatile, delicious and a great way to add some nutrients to your breakfast.
Almonds (and almond butter) are a healthy source of unsaturated fats, which support heart health, according to the Mayo Clinic. Nuts pack vitamin E and can help lower your LDL (bad) cholesterol levels.
Tiny but mighty is the best way to describe the chia seed. Sure, these little seeds may be a pain to pick out of your teeth after breakfast but they're definitely worth the effort.
Chia seeds contain alpha-linolenic acid (ALA), a plant form of omega-3 fatty acids, according to the NIH. A type of polyunsaturated fat, omega-3 fatty acids help promote good heart health and may even help keep your blood pressure regular.
It's not a nutritious breakfast without an egg or two. Eggs are an easy-to-prep, filling source of nutrients that can be incorporated into basically any savory breakfast recipe.
Plus, eggs are rich in choline, an essential nutrient that helps regulate your metabolism and plays a crucial role in your overall brain health, Largeman-Roth says.
7 Days of Healthy Breakfast Recipes
Monday: Overnight Oats With Grapes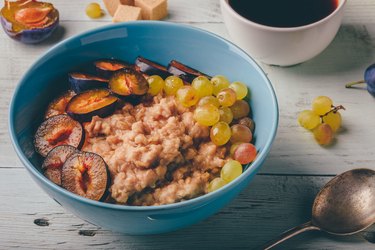 Combine 1 3/4 cups of rolled oats with 1/3 cup of chia seeds and a pinch of salt.
Divide the mixture into four lidded jars, adding a 1/2 cup of milk to each jar.
Top each jar with halved grapes and any nuts or seeds of your choice.
Place the lids onto each jar and refrigerate for three hours or overnight.
Before digging in, top with your favorite granola or extra pumpkin seeds.
Tuesday: Almond Butter Toast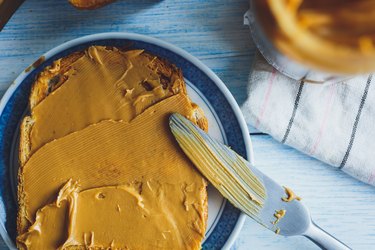 Toast your whole-grain bread..
Spread a tablespoon of almond butter onto the toast.
Top with halved grapes, pumpkin seeds and chia seeds.
Wednesday: Homemade Granola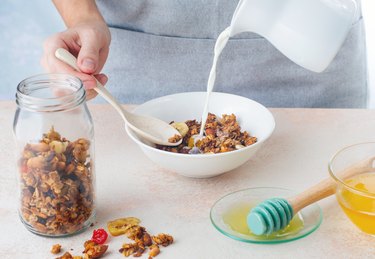 Preheat your oven to 350 degrees Fahrenheit and line a baking sheet with parchment paper.
In a large bowl, mix together oats, pumpkin seeds, spice and salt (you can also add pecans).
In another bowl, whisk melted butter or ghee with maple syrup.
Pour the wet ingredients over the dry and stir until combined.
Spread the mixture over the prepared baking sheet and bake for 20 minutes, until golden.
Let the granola cool and then transfer to airtight glass jars.
Tip
Enjoy your granola with your preferred milk for a healthy homemade cereal alternative.
Thursday: Homemade Granola Yogurt Parfait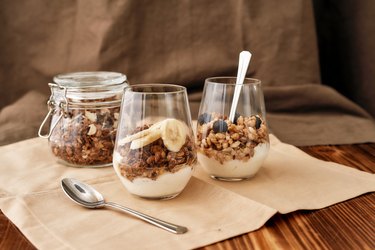 Fill a dessert glass with a few grapes.
Top with 1/4 cup of Greek yogurt.
Add 2 tablespoons of homemade granola.
Top with a few more grapes and another 1/4 cup of yogurt.
Sprinkle some chia and pumpkin seeds on top.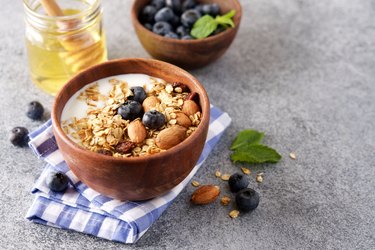 Combine 2 cups of rolled oats with a 1/2 cup of chia seeds.
Add a pinch of salt and a 1/4 cup of pumpkin seeds.
Stir together and transfer the mixture to a jar.
Place a 1/3 cup of the muesli in a bowl with a 1/4 cup of milk.
Top with fresh grapes (or another fruit) and add an optional drizzle of maple syrup.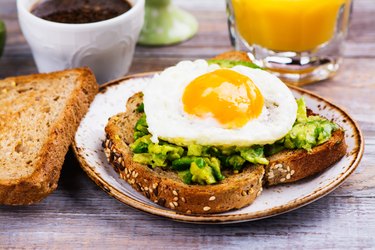 Toast two slices of whole-grain bread.
Heat a pan with some cooking oil.
Crack two eggs in the pan and cook them sunny-side up for about 5 minutes.
Once they're done, transfer each egg onto a slice of toast and enjoy.
Sunday: Savory Oatmeal Bowl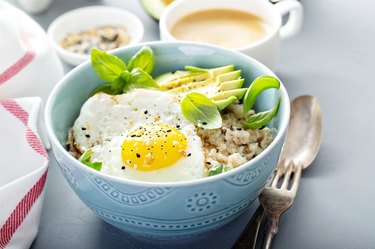 In a bowl, slowly combine boiling water with a 1/2 cup of rolled oats.
Sprinkle a little salt and pepper into the oats.
While it cooks, heat a pan and add cooking oil.
Crack two eggs into the pan and cook for about 5 minutes.
Add the eggs onto the oatmeal, and dig in.
Tip
Leave the yolks a little runny and spill them over the oatmeal to add some extra flavor to your savory oats.