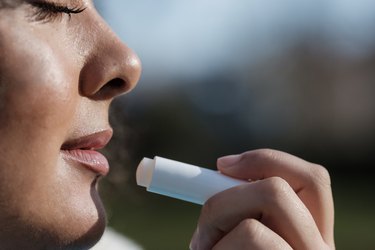 Many of us don't consider using a lip balm unless we're dealing with dry, chapped lips, a condition that tends to crop up most often in the wintertime. But lip balms with SPF are a good idea any time of year.
Why? "Lips are extremely susceptible to the harmful effects of the sun due to the fact that they have a thinner stratum corneum [the outer layer of skin] and contain less pigment," explains Jodi LoGerfo, DNP, doctor of nursing practice and a family nurse practitioner certified in family medicine and dermatology.
What's more: "Chronic sun exposure to the lips can cause actinic cheilitis — a precancerous condition of the lips that causes dryness, redness and scaliness."
Here, we've chosen the best lip balms with SPF that will protect this vulnerable part of your body — and look great, too.
We chatted with LoGerfo and several dermatologists, who broke down the most important features of a lip balm that contains SPF. Our top picks are based on their criteria, including:
SPF rating
Hydrating
Ingredients
The Best Lip Balms With SPF
1. Elta MD UV Lip Balm Broad Spectrum SPF 36
Pros
High SPF
Water-resistant
Long-lasting
Cons
Pricey
Leaves a subtle white cast
This SPF lip balm is the one that received the most thumbs up of approval from the dermatologists we interviewed. Not only is it ultra-moisturizing, but it's also water-resistant, which is especially helpful during the summer months when you're naturally sweating more often and may even be taking a dip in an ocean, pool or lake.
The key ingredients include olive oil, beeswax and vitamins C and E, all of which help hydrate and soothe your lips.
‌2. eos Sun Protect Sunscreen Lip Balm
Pros
Affordable
Has a light coconut scent
Water-resistant
Cons
Has a thick, uneven consistency
A little sticky
May leave a white cast
A lip balm is a simple product, so you shouldn't feel like you're breaking the bank to find a suitable brand that protects and hydrates your lips the way it should. That's where this one from eos comes in — it provides 24 hours of hydration thanks to moisturizing ingredients like shea butter, coconut and jojoba oils and beeswax.
It also has a very pleasant scent that's reminiscent of a piña colada (but you should use it with caution if you know your skin is sensitive to fragrances).
‌​​3. Supergoop Play Lip Balm SPF 30 with Acai
Pros
Water- and sweat-resistant
Reef-friendly
Clean ingredients
Cons
Leaves a bit of an aftertaste
Doesn't absorb well
If you're eczema-prone, you have sensitive skin. For this reason, you'll want to look for a lip balm free from potentially irritating chemicals like oxybenzone and octinoxate.
This one by Supergoop contains shea butter, sunflower seed oil and honey to keep your lips naturally hydrated, along with broad-spectrum SPF 30 to protect them from the sun's harmful UVA and UVB rays.
4‌. ​​​​La Roche-Posay Anthelios XL SPF 50 Lip Stick
Pros
High SPF
Non comedogenic
Water-resistant
Cons
Doesn't always have an even consistency
Unfortunately, your lips are not immune to the dangers of skin cancer, and the condition actinic cheilitis indicates there are precancerous cells on your lips.
If you've been diagnosed with actinic cheilitis, you'll want to opt for a sunscreen lip balm that contains a high SPF, like this one from La Roche-Posay.
LoGerfo considers it the gold standard because it's high in SPF, highly moisturizing and water-resistant, so it's as reliable as it gets when it comes to protecting your lips from sun damage.
‌​5. Herpecin L Lip Balm Stick With SPF 30
Pros
Contains active ingredients to help fight cold sores
Contains high SPF
Cons
Unpleasant taste
Doesn't stay on the lips well
If you're one of more than 3.6 billion people worldwide battling cold sores, per the World Health Organization, you know how pesky the condition can be — and you're probably looking for every ounce of relief you can find.
Luckily, this lip balm is formulated with soothing ingredients that can relieve your lips from dryness and protect them from the sun all the while providing treatment for your cold sores. It's formulated with dimethicone and lysine, which work together to promote healing and soothing of dry lips.
Tip
Toss this lip balm once your cold sore outbreak has resolved, and make sure you don't share it with anyone else.
6. Paula's Choice Lipscreen SPF 50
Pros
Contains nourishing and hydrating ingredients
Fragrance-free
Doesn't clump
Cons
Not the cheapest option
Comes in a small tube that doesn't last very long
If your skin is prone to irritation and redness, you'll want to be extra choosy when it comes to your lip balm with SPF. Yes, even your lips can get red and inflamed if you use the wrong ingredients.
This one is fragrance- and flavor-free, providing only soothing and gentle ingredients to your lips like jojoba and olive oils. It goes on nice and smooth, too, and doesn't clump.
7. Sun Bum Tinted Lip Balm
Pros
Contains hydrating ingredients like vitamin E
Has pleasant coconut flavor
Comes in several tint shades
Cons
Texture can be a little gritty
Doesn't go on smooth
If you appreciate the scent of coconut on a warm summer day, you'll love slathering on this sunscreen lip balm, which also contains aloe and vitamin E to leave the lips feeling soft and smooth.
It comes in five fun lip tints that are all flattering and add a hint of hue to your summer glow. This lip balm is also hypoallergenic, cruelty-free and free of parabens, silicone and oxybenzone.
8. Aquaphor Lip Repair Lip Balm with Sunscreen
Pros
Ultra-hydrating
Safe for sensitive skin
Convenient for year-round use
Affordable price point
Cons
Doesn't have a great taste
Takes a while to be absorbed
This brand is best known for its ability to moisturize even the driest skin and expedite the healing process if something is chapped or cracked. The lip repair lip balm makes no exceptions, maintaining all the hydrating and healing benefits of the standard Aquaphor ointment with the added bonus of SPF 30 protection.
"Aquaphor has ingredients like glycerin and panthenol, which have soothing and reparative properties and help restore the natural moisture barrier of the lips, aiding in the healing of dry, cracked or damaged lips," explains Mariano Busso, MD, dermatologist and founder of the Miami Rejuvenation Institute.
Another plus: It's fragrance-free, which is ideal for sensitive skin.
9. Colorescience Sunforgettable Lip Shine
Pros
Doubles as a lip gloss
Comes in different colors
Hydrating ingredients
Cons
Pricey
Dries rather quickly
If you're looking for some lip protection, but prefer to wear lip glosses instead of balms, this is a great choice.
"It contains zinc oxide and titanium oxide, which are excellent physical blockers of UVA and UVB," says Nazanin Saedi, MD, a board-certified dermatologist with Plymouth Meeting Dermatology. "The gloss comes in a variety of colors and contains vitamin E and hyaluronic acid to hydrate."
10. MDSolarSciences Hydrating Sheer Lip Balm With SPF 30
Pros
Contains nourishing ingredients like avocado oil and vitamin C
Offers SPF 30 protection
Comes in several shades
Cons
Some say this offers more lipstick than sun protection
Color fades fairly quickly
If you're looking for more than a tint, this SPF lipstick will do the trick. It offers SPF 30 protection and is made with hypoallergenic ingredients that won't irritate sensitive skin. It's also vegan, gluten-free and contains nourishing ingredients like vitamin C and avocado oil.
In addition to the fact that it goes on nice and smooth, it comes in seven fun shades that you can match with your skin tone or whatever outfit you're wearing.
What to Look for in a Lip Balm With SPF
Here are some features dermatologists recommend looking for when shopping for the best lip balm with SPF.
Make sure to find a product with adequate SPF protection that is "broad-spectrum," which means it protects against both UVA and UVB rays.
So, which SPF is best for lips? In general, Marisa Garshick, MD, dermatologist at Medical Dermatology & Cosmetic Surgery in New York City, recommends treating your lip with the same protection you would the rest of your skin, as it can be susceptible to sun damage leading to skin cancer and aging. She recommends using an SPF 30 or higher most of the time and also suggests reapplying every two hours or sooner if you're swimming, sweating or if you have a tendency to lick your lips.
While SPF is an important guideline, Dr. Busso warns not to rely simply on high SPF alone. "SPF 30 is generally sufficient for most individuals — the key is consistent application and reapplication, especially when exposed to the sun, regardless of the specific SPF number," he says.
To help shield your lips from painful and unpleasant cracking, chapping and redness that can often occur from sun exposure, it's helpful to seek out a lip balm that contains hydrating ingredients like shea butter, jojoba oil and beeswax.
"If a lip balm is hydrating, it's also more enjoyable and easy to wear, as it often makes it easy to apply and reapply to keep the lips looking hydrated and plump," Dr. Garshick says.
3. Free From Harmful Ingredients
Ideally, you'll want to avoid lip balms made with chemicals like oxybenzone and octinoxate as well as very strong added fragrances, especially if you have sensitive skin.
"Because the lips and the skin around the lips is thin, it is more susceptible to irritation," says Dr. Garshick.
She recommends people with sensitive skin stick with products with minimal fragrance or other common allergens to prevent any reaction or sensitivity from developing. Cinnamon and peppermint oil, too — often found in products advertised to be lip "plumping" — can sometimes cause skin irritation.
If you have dry lips, you may also want to avoid products with "cooling" ingredients like menthol, camphor or phenol, as they can be drying.
Finally, if you know you have allergies to propolis — a resin-like material bees use to make hives — consider avoiding beeswax-based lip products.
1. What Does SPF 15 Mean in Lip Balm?
SPF stands for sun protection factor, or the level of protection against the sun's harmful rays. If a lip balm contains SPF 15, that means it offers level 15 sun protection. This is fairly low on the SPF scale, as some lip balms contain SPF 30 or SPF 50. The higher the SPF number, the greater protection against the sun and sunburn.
2. Does Vaseline Have SPF for Lips?
Yes, Vaseline offers several lip balms that contain SPF as well as other hydrating ingredients, such as aloe vera and cocoa butter. Not all Vaseline lip products contain sunscreen, though — if the product has SPF, you'll see that noted on the label, along with the level of protection (e.g. SPF 15 or SPF 30).
Here are a few Vaseline lip products with SPF:
Vaseline Lip Therapy Cocoa Butter With SPF 15 ($6.50, Walmart.com)
Vaseline Lip Therapy Rosy Lips With SPF 15 ($2.49, Amazon)
3. Is It Good to Have SPF in Lip Balm?
In short: Yes. It's good to have SPF in your lip balm because the skin on your lips is vulnerable to sunburn and sun damage. Wearing a lip balm with sunscreen can help protect this sensitive area and lower your risk of skin cancer.
4. Is Lip Balm ChapStick?
ChapStick is a brand of lip balm. In other words, lip balm is the generic name for a moisturizing, wax-like substance applied to the lips, and ChapStick is one of many brands of lip balm, in the same way that Kleenex is one of many brands of tissues.
Is this an emergency? If you are experiencing serious medical symptoms, please see the National Library of Medicine's list of signs you need emergency medical attention or call 911.